Mortgage companies need a uniform email signature. Why can this be said with such confidence? Email signatures may be the most overlooked, under-appreciated, and cost-effective marketing tool at a mortgage company's disposal.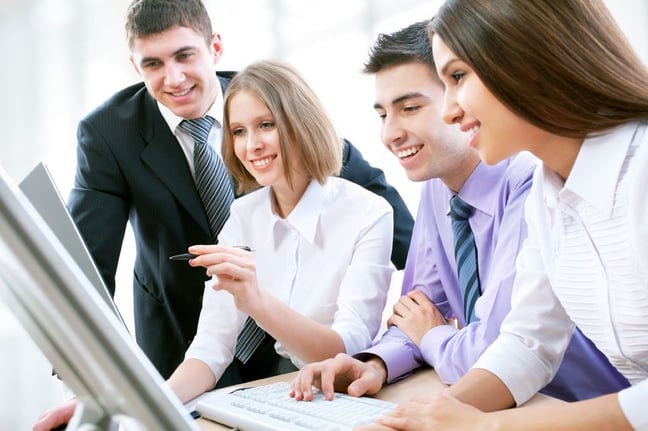 The benefits of a well-executed email signature are so great that mortgage companies of any size should view it as a required component of any email-management solution. What are some specific benefits that a uniform email signature has to offer?
1) Project the kind of image you want to convey to your clients.
Your employees are professional, and they represent your company in every communication with a client. Just as you would expect written communication from your employees to your clients to be on company letterhead with your recognizable and distinctive company logo, so too should your email correspondence convey your company image properly. A well-designed email signature can accomplish this easily and effectively.
2) Optimize your marketing strategy.
When communication between your lenders and your clients is conducted via face-to-face interaction, it is standard for your mortgage lenders to hand clients a business card with contact informatio. Much thought goes into the design of business cards, as they are a well-recognized part of a solid marketing strategy. In the world of digital communications, a uniform email signature serves much the same purpose. Like a business card left in the appreciative hand of a client, an email signature contains valuable information for the client's convenience.
How does this drive sales? Email signatures contain information that the client needs in order to get back in touch with your lender. A well-designed email signature should contain all the information a prospective client needs to contact your company again. It provides a menu of available touch points and makes it easy to connect with the right person in the right department of your company. Prospective clients provided with this type of information will be more likely to communicate with your lender again. As mortgage lenders know, each interaction with a prospect is an opportunity to close the deal.
3) Ensure compliance with SAFE Act requirements.
The SAFE Act mandates that all mortgage loan officers provide their NMLS ID number with their initial communication with a client, whether that communication is written or electronic in nature. Additionally, most states have adopted a provision that requires mortgage loan officers to display the NMLS ID number on all solicitation and advertisements. This provision includes email as well. Including this essential information as part of a uniform email signature meets this requirement easily, and ensures compliance with the SAFE Act.
4) Minimizes confidentiality and privacy risks.
On the subject of compliance, a uniform email signature can also include confidentiality, legal, and privacy disclaimers which, when clearly worded, serve to protect mortgage companies and their clients.
These benefits make it clear that mortgage companies can profit from using a uniform email-signature solution. ABT's Mortgage Email Solution fits the unique needs of the mortgage industry by providing a central place to manage all your organization's email signatures.
It adds professional and consistent branded signatures to all email sent through ABT's Mortgage Email Service. An attractive added feature is the ability to choose between a comprehensive template library or, if you prefer, to create your own email signature designs.
Rather than just a generic "Yours truly" added at the end of your correspondence, you can design the perfect email signature template, complete with your company logo, legal disclaimers, marketing banners, social-media links, and more. Though the email signatures can be designed differently for different teams and departments, ABT's Mortgage Email Solution will ensure that your company message is consistent throughout with auto-completed details like mortgage loan officer names, NMLS ID numbers, departments, and job titles.
Because ABT's Mortgage Email Signature Solution is completely compatible with MortgageWorkSpace, your loan officers and other employees can maintain their own details like phone numbers, addresses, and NMLS numbers from theMortgageWorkSpace profile manager with ease. This ensures that email signatures are always up-to-date and can easily be distributed.
Since your staff is likely on the go, a real bonus of ABT's Mortgage Email Signature Solution is that with it you can access full HTML signatures on all types of mobile devices including iPhone, Blackberry, Android, and iPad. No matter where your team members are, they can send emails with appropriate signatures from anywhere at any time.
If you would welcome more information about how ABT's Mortgage Email Signature Solution can generate more business, ensure compliance with the SAFE Act, and minimize confidentiality and privacy risks for your mortgage company, please contact us. We look forward to demonstrating how ABT meets and exceeds the expectations of our mortgage industry clients every day.