Safety & Compliance
DocumentGuardian® is the safest and easiest way for your borrowers to send you NPI (non-public information) documents. Compliance auditors recommend it because unlike box-type file sharing apps, DocumentGuardian stores your borrower documents in our secure data center, not on individual computers and mobile devices.
Your borrower never has to email you sensitive documents again. Send your borrower a link to your secure document drop web page: Example Document Drop Web Page. Your borrower needs only to drag and drop documents onto your private web page --no registration, username or passwords necessary. Documents are automatically uploaded directly to your secure document folder on the cloud.
Existing MortgageWorkspace® users already have free access to DocumentGuardian. Click here to login to DocumentGuardian with your MortgageWorkSpace® account.
Add your personalized file drop page to your email signature. Give us a call and we will help you set up a great looking email signature with a link to your personal document drop web page like the one below within Outlook.
Email Example: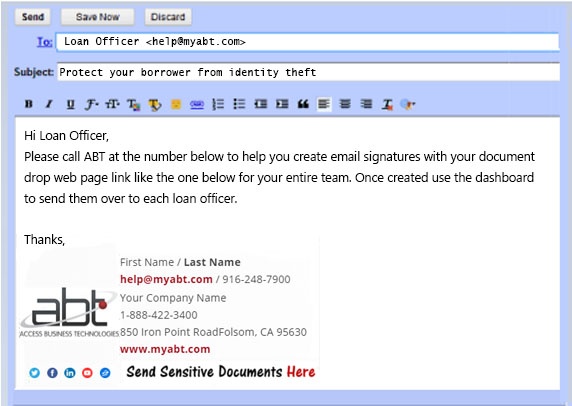 All files are virus scanned when uploaded and deleted if found to be infected
All files are transferred with SSL 256 bit encryption
Borrowers are emailed a receipt once their documents have been downloaded
Documents can automatically expire after a certain date or number of downloads
Unlimited file size
Only safe file types are accepted
SSL 256 bit encryption
All activity is logged and archived
Sync-Store-Share
Loan Officers can easily create folders to share documents with their borrowers and vendors.
Create folders on the cloud that Loan Officers can view but they cannot sync/cut/copy or paste
Create folders that are always synced with all of your devices
Create internal company websites for sharing and real-time collaborating
Run reports of who viewed documents, when they were accessed and if any changes were made.