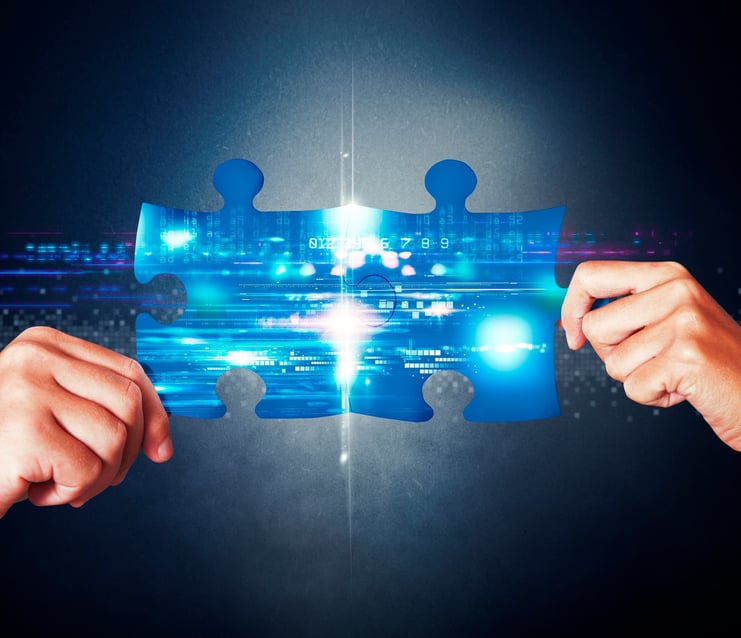 As your mortgage company, bank, or credit union opens branches and expands services, your organization's growth strategy is put to the test. A solid growth strategy includes IT support and software that is developed to grow with your business, without compromising security, mobility, and established workflow. Software that integrates across a range of platforms, from mobile devices to legacy systems, is part of a solid growth strategy because it scales your services without disruption.
Here are five ways mortgage software integration promotes scalability.
1. Uniform Access
Cross-platform functionality is software integration's greatest asset for agents in the field. Cloud-based mortgage applications, like ABT's MortgageExchange™, allow users to access uniform data across a range of devices and software platforms, using smartphones, tablets, or computers. The access point, or the dashboard, appears uniformly across devices, which increases ease of use and diminishes user pain points. Additionally, users are able to access email, databases, and files, as well as software applications like Calyx, Byte, Encompass, and Excel.
As your business grows and your organization's files, applications, and technologies update, increase, or change, the access point remains a stable portal to the information your loan officers need to seamlessly, and successfully, complete their job.
2. Security
As mentioned earlier, cloud-based software is popular for a range of reasons, but its inherent scalability is its primary benefit. Cloud system storage is easily increased and decreased as business needs change. Developers point out that the same is true for cloud-based security, stating:
The same goes for security solutions. When they are built in the cloud, to serve the cloud, architectures can automatically scale up or down alongside the capacity of your infrastructure.
Additionally, tools like MortgageExchange™, which was developed solely for financial organizations and is a certified SSAE 16 Type II cloud solution, feature security infrastructure and seamless integration that complies with regulatory guidelines. Updates occur automatically throughout the platform when needed, and legacy system data is kept secure when transferred across platforms.
3. Affordability
It's no secret that mortgage companies, banks, and credit unions are subject to economic shifts and market changes. Sometimes, it is just as necessary to scale down as it is to scale up. Services that require hardware and on-premise software make it difficult to adjust a pre-established contract as needed. Cloud-based technologies allow for this kind of adjustment, without the need to remove hardware or install new software.
4. Eases Transition to the Cloud
Financial organizations that rely heavily on legacy data understand that, as more and more data moves to the cloud, their data will also have to transition. This transition can be time-consuming and complicated, but it doesn't have to be.
Staying in compliance while moving data can be an issue, but so can moving large amounts of data into the cloud. Software that integrates with legacy data systems eases the transition by providing a growing organization with the chance to work in "hybrid mode" until a full cloud transition is possible. In these situations, the services and security provided to customers occurs without disruption.
5. Customization
Understanding how security, access, affordability, and cloud services fit your organization's needs is a necessary step toward deciding which software services work best for your company.
Digital entrepreneur Himanshu Sareen writes in Entrepreneur:
No off-the-shelf workflow automation—payroll, data analytics, CRM, or other software package—is going to suit your needs absolutely.
Thus, you're likely going to have to employ your internal technology staff or hire an outside consulting firm to customize the software you select to some degree.
This customization usually entails building and developing software that integrates with your organization's existing workflow and protocol. Rather than turning to generic software fixes, it makes sense to look at industry-specific software, especially when that software will need to scale with your growth over the long-term.
If you are interested in working with an information security company that understands the unique requirements and concerns of mortgage companies, banks, and credit unions, then please contact us.