Access Business Technologies was again invited to exhibit at Harland's User Conference "Connections 2011", held at the Gaylord National at National Harbor,

MD.
At the conference's opening session Harland representatives mentioned they had a substantial increase in attendees over the year before. I would say that was accurate judging by the amount of people stopping by our booth. We presented our latest offerings in internet delivered, mortgage solutions:
PowerCore 3.0 Beta was shown. This latest version of ABT's delivery software allows users to safely access their hosted software residning in our secure data centers. It provides the ultimate in user convience including multi-screen viewing and solid printer access.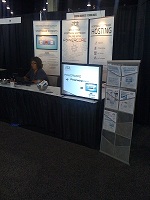 ABT's core hosted Harland product for the last 11 years has been "ServicingDirector" mortgage loan servicing software. We have been providing Credit Unions and Banks this fully hosted mortgage servicing platform for years. To this we have added hosting for Harland's E3 product as well. This mortgage loan origination software system was built years ago to allow users an integrated mortgage solution. These two products move a mortgage loan from origionation all the way through servicing. ABT has been approached by several current users who have asked us to analyze this product and include it in ABT's hosted solutions.
ABT's own PowerCore Due Diligence Software was being shown as well. This new and unique "Web Based" product is the latest due diligence product available. It is currently being used by institutions to perform and identify inaccuracies within loan portfolios.
We appreciate the opportunity to meet our current clients at this event and introduce ABT to new folks who are looking for the solutions we offer for managing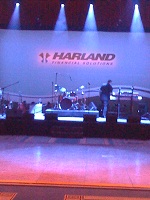 their mortgage software. We hope all of the attendees had as great time as we did. To the winner of the personal video recorder we gave away, have fun
capturing memories.
See you next year,
ABT