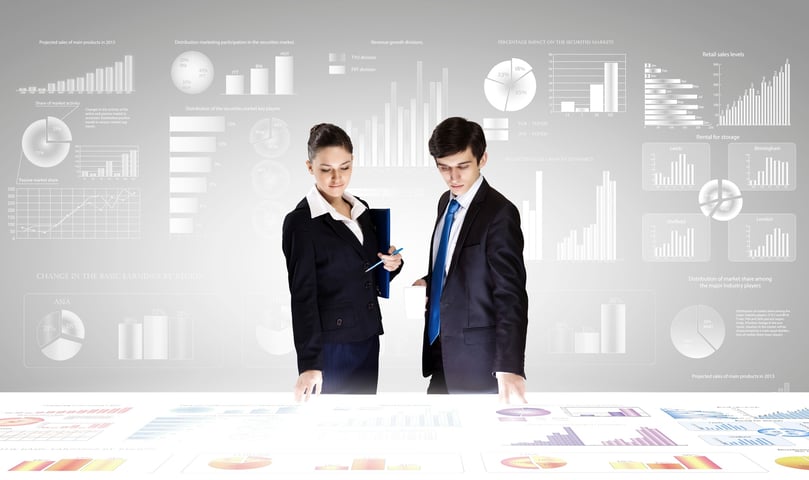 How many information systems does your mortgage company deal with on a daily or weekly basis? How many databases do you need to navigate in order to close a mortgage loan? Stop and consider how many more sources of data are feeding into your IT network than are evident at first glance. Wouldn't you love to have the reporting and analysis tools to help you make the most of all this data? The right business intelligence system for mortgage companies can put an information revolution into your hands and drive your lending business to the top of the market.
The Business Intelligence Advantage for Data
Business intelligence systems gather all of the data that pours into your business operation into one entity. These Big Data tools enable your IT systems to provide business insights about new opportunities as well as to manage your normal operations at a higher level of efficiency, all from a dashboard that works on desktop, smartphone, and tablet devices. As a small business in the mortgage industry, you can now have a world-class IT system that delivers business intelligence—one that is smart, secure, and able to incorporate all of your resources into one comprehensive picture.
This business intelligence transformation is giving the competitive advantage to its enthusiasts in all industries. Companies that do not invest in updating their business intelligence tools will fall behind and likely perish. The mortgage industry is no different; your current competitors are considering new IT solutions, if not implementing them already. Soon, the market leader in mortgage lending will be the one that makes the best use of this versatile resource.
Database Solutions That Deliver Insights
The most advanced information systems will help you spend more time building your business and less time running your office. IT systems depend on databases, but simple databases have transformed into cloud-based data warehouses which hold vast arrays of structured and unstructured data, and which gather and process data in real time.
Cloud-based business intelligence solutions replace expensive capital investments in IT departments with efficient, scalable Software as a Service (SaaS) subscriptions. Now, you do not have to make the massive capital investment required for on-site assets or recruit large IT departments; you can work where you want and still have all of the business intelligence resources needed to deliver service and results. Finally, you can do this while keeping your data safe and your operation up to date with security compliance.
How to Revolutionize the Mortgage Industry With BI
The Big Data tools that deliver business intelligence help you to make better lending decisions and make the loan process much simpler, faster, and less expensive. With these tools you can analyze mountains of documents and accounts to determine the risk profiles in lending portfolios. You will also gain compliance and security tools to keep out unauthorized users and to reveal potential fraud.
The net impact is that when you have the business intelligence insights, you will make business decisions faster, control risk more accurately, and deliver a service experience that delights your customers. The revolution in business intelligence is giving small and medium-sized businesses resources that were recently only available to the largest enterprises, enabling them to understand markets and customers in real time, and allowing them to make lending decisions with greater confidence.
BI Solutions From Access Business Technologies
MortgageWorkSpace® from Access Business Technologies is a cloud-based mortgage technology platform that extracts business intelligence insights and delivers the reports and analytics that make the mortgage process easier for you and a better experience for your customers. The business intelligence solutions from ABT give you real-time and analytic dashboard tools to see the big picture while ensuring security and delivering content to authorized users only.
The result is a data management system that very quickly absorbs information and searches for patterns that indicate undiscovered opportunities. In the mortgage business, these insights might produce a unique best offer for a single client or they might reveal an underserved segment of the market. To find out how Access Business Technologies can help you take advantage of the business intelligence revolution, contact us today.