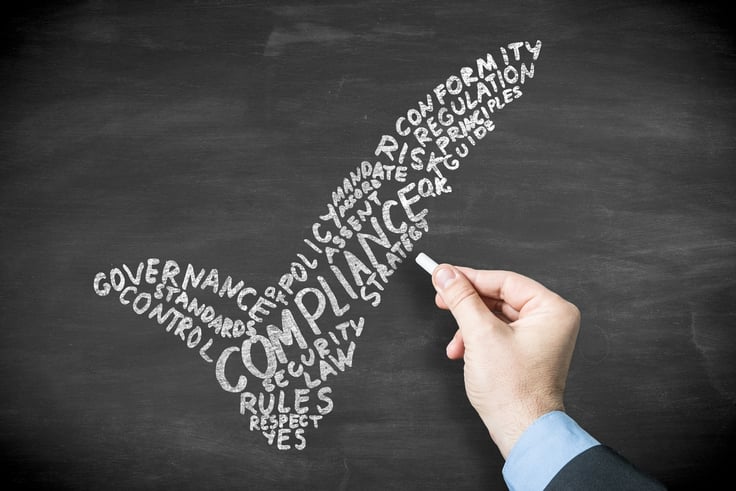 Picture this. Your company has decided to provide end-to-end mortgage services for a new client. To make document sharing easier, you activate a remote login account so that they can have access to consumer reports. Hackers gain access on the client's end, steal the remote login credentials, and grab sensitive information. Unfortunately, this is not a hypothetical situation.
This happened to a mortgage lender back in 2008. 2008? That was 9 years ago, yet the FTC still uses this case as one of their prime examples of a security lesson taught the hard way. This company didn't protect vital data, and the FTC is strictly auditing them until the year 2028!
This is what can happen when your mortgage company creates compliance risks with data and electronic documents. It's a lot cheaper, we'd say, to invest in better data security than to lose the goodwill of your customers and have to defend yourself legally and face other consequences connected with a data breach.
Here's what you need for maximum security and full compliance.
With Office 365 Mortgage™, you are using all of the productivity features that Office 365 offers. Plus, it's configured to work right alongside your mortgage software for maximum security. How does it keep data safe?
One Password, One Portal

- Users have secure, single-sign-on access, which helps combat issues that revolve around password reuse and other weaknesses. When you hire someone, there is only one account and password to set up, and when someone leaves, you only have one account and one password to delete.




Rest Easy With Built-In Security

- Microsoft gives you three layers of security and also guards your business email with industry-leading anti-spam and anti-malware defense.




Prevent Data Theft

- Security is a priority at Microsoft data centers, but simply deploying Office 365 straight out of the box cannot single-handedly keep your data safe. Mortgage businesses need additional layers of protection. This is why we step in and use complex configurations and custom-written software to make Office 365 Mortgage™ exceed banking standards.
Mortgage companies typically rely on human intervention to determine inconsistencies in their paperwork. Two or three different people will either enter the data into a system to cross-check against each other for inconsistencies; or, businesses will use OCR systems to automatically recognize text and numbers. Both of these methods require a certain amount of human intervention to audit inconsistencies, perform exception processing, and control data quality.
MortgageExchange® eliminates the need to re-key data between origination, servicing, core systems, and accounting. In this way, you seamlessly connect people, processes, partners, and information across dissimilar systems, while eradicating data re-entry, costly errors, and security issues at the same time.
Errors in documents can be as simple as a name misspelled or a wrong number in an address, or as serious as incorrect loan amounts or missing pages. All of these errors cause delays in closing, and incorrect loan amounts can have major consequences for the downstream systems processing the loan.
DocumentGuardian™ is a comprehensive document management system designed specifically for the mortgage industry. It is a cloud-based email service that provides secured encryption and transfer of files, pictures, and documents.
It starts by providing the borrower with a secure and easy way to send their NPI (Non-Public Information) documents without registering or creating a password. Compliance auditors recommend this type of security because, unlike box-type file sharing apps, it stores your documents in our secure data center only; not on individual computers and mobile devices.
Unfortunately, mortgage companies and financial institutions are still extremely vulnerable. With threats growing bigger every day, it is now more critical than ever for businesses to develop an information security plan and make sure that their vendors and other third-parties are covered too.
The non-profit Online Trust Alliance (OTA) warns that the "cyber landscape has changed dramatically just over the past 12 months," with organizations both large and small being the victims of attacks. Housingwire Magazine reports that numerous mortgage companies are now increasing security because of these significant incidents:
Thieves walked away with $80 million in 2016 during a cyber attack at the Federal Reserve.

2017 started out with London-based Lloyds Banking Group experiencing a two-day-long distributed denial of service (DDoS) attack.
Employee breaches are also happening. In 2016, a jury awarded Mount Olympus Mortgage Company (MOMC) more than $25 million for their claims against Guaranteed Rate, another mortgage lender. These claims alleged that Guaranteed Rate, along with former employees of MOMC, illegally transferred hundreds of loan files from MOMC's internal systems to Guaranteed Rate's.
In today's digital world, it is more important than ever to protect vital information and documents from these cyber thieves—both internally and externally—and to stay compliant with industry regulations that are becoming more stringent in response. Please
contact us
today at Access Business Technologies to learn more.