Mortgage companies are now required to adhere to the same stringent regulations for protecting consumer data as banks. These regulations can add to the time it takes to process applications and increase the costs of training your staff on the proper handling of data. To avoid these wasteful expenses, Access Business Technologies has provided mortgage companies with a solution through our MortgageWorkSpace platform. This innovative platform allows mortgage companies to process applications and monitor current client information, while training employees and adjusting business practices to comply with the new regulations.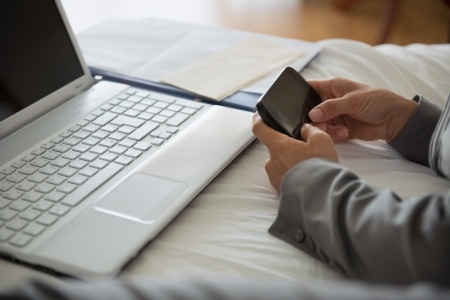 Adjusting to the CFPB Regulations
Mortgage providers and loan officers work with the tools they have that make them most adaptable to the conditions of the job. Some might choose to use their smart phones or tablets to access information when they're away from the office, but the new regulations prevent this type of activity due to security issues. Many mortgage providers are being audited to determine how effectively they follow the new Consumer Financial Protection Bureau (CFPB) information security regulations. These audits add to costs, take up valuable time, and can have a big effect on consumer confidence. To prevent any interruption in business, mortgage providers can look to MortgageWorkSpace as a vital solution.
MortgageWorkSpace: A Cloud-based Solution
MortgageWorkSpace is a technology platform specifically designed to meet the CFPB information security regulations. It provides mortgage companies with a simple solution that streamlines the work process, while ensuring that business practices are compliant with the new regulations. It also provides a reliable method for staff to collaborate and share information so that normal practices can continue wherever your employees are. MortgageWorkSpace is a flexible, Cloud-based solution that allows mortgage providers and loan officers to access, store, and protect their vital information in one secure location. It can also be easily integrated with a mortgage company's existing software for a seamless transition.
Some of the advantages that a Cloud-based solution offers are:
-Flexible performance that adapts to any software (like Calyx or Encompass)
-Enhanced access to the information and systems you need, whether you're working from the office on a desktop or laptop, or from the road on a mobile device
-24/7 safeguarded protection from security threats
-Dependable network performance, allowing staff to always stay connected
-Automatic software updates and patches to prevent any unauthorized data access and enhance security performance
-Complete, easy-to-implement CFPB compliance
MortgageWorkSpace simplifies the process of adapting to the new regulations. It also consolidates most networking and IT expenses into a single cost, while giving staff the appropriate tools for performing secure, dependable work.
Cost Benefits and Performance Improvements
With MortgageWorkSpace's cutting-edge technology, all expenses for running a network, maintaining storage space and databases, and monitoring security points is reduced into one manageable cost. Access Business Technologies offers all the services mortgage companies need, while following all required regulations. ABT's services also improve performance by allowing employees to work from any device anywhere they have access to an Internet connection. This helps sales teams to be more accessible to their colleagues and to their clients, while converting more leads. Workers can use their desired device (laptop, tablet, or smartphone) and still be within the regulations regarding secure consumer information. Instead of storing data locally on their device, providers and staff will access their records through the MortgageWorkSpace Cloud network.
Consumers today worry greatly about their privacy and securing their information. To handle this demand, newly created regulations require mortgage companies and loan officers to follow strict guidelines that outline the storage, collection, and processing of consumer data. To help manage this with a simple solution, Access Business Technologies developed MortgageWorkSpace: a Cloud-based platform that provides flexible and dependable services to make working with consumer data safer and more effective. The configurable platform provides optimal performance for any selected software application, access through different mobile devices, and the certified security that consumers demand.
For more information about how MortgageWorkSpace configures to the needs of your business, please contact us.