Forget Disaster Recovery. What are you doing to ensure Business continuity?

A solid question and supporting blog written by David Robbins CIO for Ellie Mae.
A message to David; "We agree with you David. We have been voicing this message and providing the solution for over 15 years"
Best Regards,
ABT
Taken directly from David's blog:
Business continuity has the following key elements:
Resilience: How resilient are the critical business functions and supporting infrastructure? Do they offer redundancy and capacity necessary to rebound if disaster strikes?
Recovery: Do you have processes and systems in place to help you restore critical business functions if they fail?
Contingency: Are you capable and ready to cope in the event of a disaster? If resilience and recovery plans fail, are you prepared to react?
Exactly the right areas to consider. But who really takes all of the points of failure into consideration. Most mortgage companies believe they do…but don't really. Most can't afford the time, expense, labor requirements to completely protect themselves.
ABT works with your organization to cover all three critical areas in a repeatable, scalable, secure platform. All managed and supported by ABT.
There is an answer, one that ABT has been delivering for over 15 years.
MortgageWorkSpace™
We work with clients all over the country. We have helped our customers recover from the worst that Mother Nature has to offer, to "man-made" disasters. We help our customers protect and recover their businesses from floods, fires, earthquakes, snow storms, tornadoes, theft and even the errant building landscaper who accidently cuts the internet line.
For many of those challenges our clients simply need to find another location with an internet connection and a computer, mac, tablet or iPad. That location can be their home, hotel, or just about anywhere.
At no time is their data or systems unavailable. They simply need an opportunity to "connect". No need to worry about data loss or security compromise. No headaches from scrambling to find patches and fixes. If your office is "down" no problem, redeploy your team to another location or have them work from home.
A complete virtual mortgage desktop that houses all of your critical mortgage software, web tools, email, office tools. If you use ABT's MortgageWorkSpace™ for Encompass or Calyx or Byte you have secure access to all of your systems. Your software will run smoother and faster on any computer at any location that has internet services.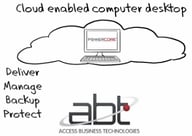 Imagine never needing to worry about updates, back-ups, security or even access. ABT manages it all for you. We have been doing this for over 15 years which is why ABT is the premier MSP provider for Banks, Credit Unions and Mortgage professionals across the country.
Contact us. We are the mortgage compliance and strategy experts.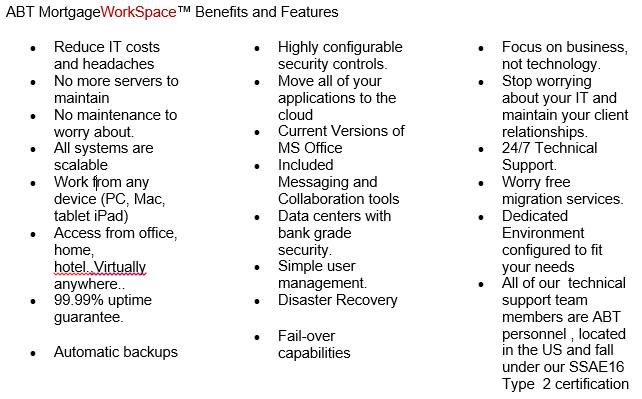 If you would like to read the original article on Ellie Mae's Blog Site, here is the link;
http://elliemae.com/blog/categories/automation-technology/forget-disaster-recovery-what-are-you-doing-to-ensure-business-continuity