The benefits of switching your mortgage company's servers and desktops to the cloud go beyond just joining the latest technology trends. You've no doubt heard plenty about the cloud over the last few years, with both positive and negative reactions. However, almost all of the negative reactions come from simple misunderstandings about cloud system capabilities. These days, cloud technology can not only do everything your old in-house servers and desktop computers can do, but they can do it more affordably, more securely, and with far more adaptable features.
In the mortgage industry, your servers and computer desktops become an essential technology tool because of how much private data you work with daily. Undoubtedly, you worry about the safety of the personal financial information that gets loaded into your servers and computer desktops while working with clients. You may also worry about business continuity if some major disaster occurs. Having an on-site server or on-site computer desktop may be your long-time storage method that you continue to use out of habit. However, do you really know what would happen to all your client data if your server or computer desktop shut down due to natural or human circumstances or was breached by security threats?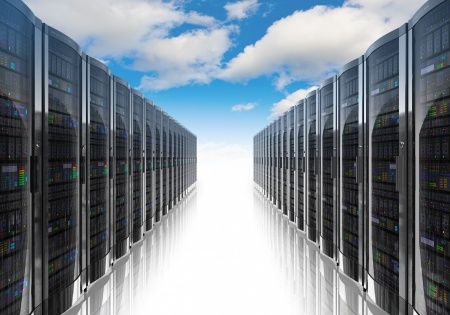 No matter if you have backup, a disaster plan, or security features in place, getting your mortgage firm back up and running quickly after a crash or hack is another thing. It's time you saw the cloud in a brighter light and understood how much it helps the mortgage industry in the realms of security and in saving money. You can consolidate all of this in our MortgageWorkspace™ cloud solution here at Access Business Technologies.
Eliminating the Expense of On-Site Servers and On-Site Computer Desktops
For mortgage companies, having a secure server system and computer desktops is crucial to the safety and success of your business. You can't have a mortgage firm without having a reliable server that can facilitate the continual flow of data and store all of your important data. However, hosting these servers and computers desktops on-site can be a huge expense
Not only are the servers and computer desktops themselves expensive, but the IT support and maintenance that goes along with them can add up fast as well. When you use Access Business Technologies' MortgageWorkspace™ cloud, you have a remote space to store your data without the worry of any maintenance or support costs. We provide the cloud storage space you need and manage it at all times.
Better Security
In the last 18 months, the world has seen a sharp rise in cyber-attacks. Last year the term "data breach" became mainstream vernacular. In 2014 the Wall Street Journal devoted 1,102 articles related to data breaches, up by more than 50% from the 470 articles from the previous year. Mortgage companies store more personal information about customers than most banks. Mortgage companies are prime targets for hackers. With all of that data moving in and out of an on-site server and on-site computer desktops, you face some major security risks if you do not have a strong IT management team on hand and a clear plan for data security. Even when you have a strong team they don't always have the time to keep up with the latest vulnerabilities and continually update your hardware and software to protect against evolving threats. You need full-time security experts to properly manage the new threats in addition to continually purchasing new software and hardware. 70% of companies were hit by Cyberattack in the last 12 Months, and 43% of ALL companies have experienced a data breach in the last 12 Months. In the event that your private data is compromised, you could face legal problems, hefty fines, or more importantly, a substantial loss of trust (and potentially business) from the clients whose private financial data you have promised to keep safe.
Using our cloud solution, you're guaranteed to have the best security technology and 24/7 monitoring designed specifically for the mortgage industry, so hacking events and other cyber threats don't disrupt your business.
Without proper security tools, you're walking on a minefield, with potential security vulnerability you won't even realize exist until it's too late. No matter if it's a holiday or weekend, with MortgageWorkspace™, you're always monitored with preventative measures that are in place to ward off the any security threats.
Convenient Upgrades
All mortgage companies start small and begin to grow as time goes on. A stellar reputation could increase that business virtually overnight, but in order to maintain that kind of reputation, you will need to keep your servers and desktop computers running without any crashes or disruptions to your workflow. Our cloud solution allows for fast upgrades and increased access to productivity tools that can change and grow with your business.
Now you can scale your mortgage firm quickly without delays and any risks of downtime. As a true money-saver, you have predictable costs with MortgageWorkspace™. You pay a steady rate for what you use, and there aren't any unexpected charges on your monthly bill. By moving your computer desktops and servers to the cloud, you empower your mortgage professionals to safely perform at the top of their game anytime, anywhere. You can support, defend, and manage game-game-changing technologies and processes that help mortgage professionals thrive.
Contact us here at Access Business Technologies to learn more about Mortgage Workspace™ and how your mortgage firm can benefit from making the switch to the cloud.