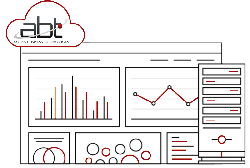 Gain valuable insight to improve business goals.
There is an infinite amount of data available, but managing that data and turning it into actionable information can be a difficult task for any company. Mortgage Business Intelligence combines the data from your collective systems and enables users to instantly access relevant information and apply powerful analytics for use in forecasting and performance monitoring. Mortgage BI provides real-time access to key performance indicators, scorecards, executive and employee dashboards, and on-demand dynamic reporting.

Data Quality
All applications provide an unprecedented level of data quality, data integrity, and data control which adds a layer of risk protection to your operations. Our flexible solutions easily conform to your organization's systems and processes as you navigate through today's ever changing business environment.
Our technology displays the real-time data quality status on select fields through color coding on the data fields themselves (e.g. green equals high revenue, yellow equals medium revenue, and red equals low revenue). Being able to monitor and view the integrity of data points in our user friendly format allows organizations to be more confident in relying on the data to make decisions. Further, you are now able to proactively monitor data, reports, and scorecards.
Scalability and Extensibility
Designed to grow with you as your business grows, our solutions have been built from the ground up to support the needs of any organization, regardless of size. Adapting to meet the ever changing needs of your business, we employ a physical infrastructure that easily scales to meet the growing demands of any business, and a data extensibility model that enables you to capture the information when you need it. With scalability and extensibility, our technology delivers a solution that conforms to the needs of your business, instead of your business conforming to the limitations of your software.
To make management of this foundation easier our design provides your organization with fully customizable Personas and policy inheritance that establish a base set of privileges on a per role basis. Additionally, added security provides condition based permissions, which is imperative in any industry to restrict employee rights to enter or view data. Our solutions enable you to set permissions all the way to the field level giving you unprecedented control over your company's data. We offer only state of the art security measures protecting your data from inside and outside your organization.
Leading Edge
Mortgage BI engages the latest technological advances and blends them with industry experience to capitalize on the latest trends in the software industry. From the use of AJAX and dynamic rendering, to the creation of a "Computing Cloud" that enables external solutions to quickly register for and be notified of changes within our applications, you can feel confident that the latest technology has been responsibly leveraged to keep you ahead of the times. Technologies and concepts such as .NET 3.5, AJAX, SaaS, Web 2.0, Service Oriented Architecture (SOA), Cloud Computing, Windows Communication Foundation (WCF), Windows Workflow (WF), and On-line Analytical Processing (OLAP) are thoroughly evaluated and can be deployed where our customers and systems can gain the greatest benefit possible.
Deployment
Our software is built with a new level of flexibility that allows it to be delivered as Software as a Service (SaaS) or deployed on your servers within your firewall – providing two ways to deploy (based solely on the needs of your organization and not the capabilities of the software provider). Both ways have the same level of functionality, scalability, and extensibility – meaning the potential for growth with your organization remains identical, regardless of how you decide to implement our solutions.
Phased Implementation
Traditionally, technology implementations force a moving organization to jump onto a stationary solution, reducing the organization's productivity and agility. In contrast, Mortgage BI employs a phased implementation approach enabling you to selectively address pain points and realize value from your investment immediately, while minimizing the impact on existing operations. By being selective, targeted technological changes can be softly integrated into your business, enhancing the overall effectiveness of existing solutions and minimizing disruption.