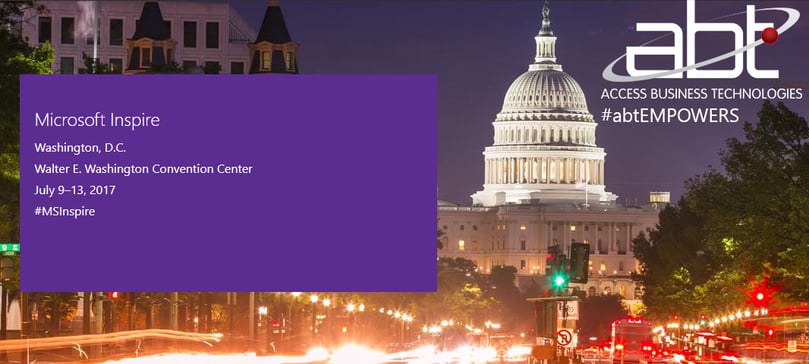 ABT is attending Microsoft Inspire 2017 at the Walter E. Washington Convention Center in Washington, D.C. from July 9-13, 2017. This conference presents an unrivaled opportunity to connect with partners, Microsoft employees, and industry experts. Microsoft says that more than 16,000 people from all over the world attended their past events. Read on to discover a few things you will want to know about this event.
Learn more about Microsoft Inspired 2017. Follow this link to learn more about this year's Microsoft Inspire conference sessions. You can even download a Microsoft Inspire app to keep you up-to-date on events while you are on-the-go at the conference.
On Saturday, July 8th, from 8am to 8pm, attendees can register conveniently at either Ronald Reagan Washington National Airport in Baltimore (DCA), at Washington Dulles International Airport (IAD) or at the Walter E. Washington Convention Center from 12pm-6pm. You can also register on Sunday, July 9 at the Convention Center from 8am-8pm.
Explore Washington, DC.
Washington DC may seem all about politics but it's not politics all the time. You can find all sorts of entertainment possibilities in the nation's capital. Whether it's fine dining, live theatre performances, world-name jazz performers, opera, dance, or neighborhood sidewalk cafe's for eating and a little evening's libation, you will find something to please you here. If you crave educational activities, check out the Smithsonian Institutions/Museums on the Washington Mall or visit the Washington, Lincoln or Vietnam War monuments. "DC" also has bike-riding trails to explore and waterfronts to visit. Check out the various kinds of activities you can sample here.
Access Business Technologies, headquartered in Northern California, was founded in 1999 as a leading provider of hosted, on-demand software for mortgage loan origination, servicing and pipeline management. Access Business Technologies (ABT) provides access to business technologies that empower mortgage professionals to safely perform at the top of their game anytime, anywhere. ABT proactively supports, defends and manages game-changing technologies and processes that help mortgage professionals excel. We are a certified SSAE 16 Type II cloud solution provider to over 500 mortgage financial institutions.
We are partnered with nearly a dozen leading mortgage software vendors. Our partnerships with the best mortgage software in the world integrate our cloud suite of products, to empower your workforce to produce more loans safely anywhere and anytime.