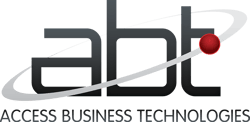 850 Iron Point Road
Folsom, CA 95630
1(888) 422-3400
PRESS RELEASE
FOR IMMEDIATE RELEASE Contact: Luke Shawver
July 13, 2017 Marketing Director
(916) 248-7930
FOLSOM, Calif. –
Access Business Technologies highlighted in Microsoft Case Study
Access Business Technologies (ABT), a Gold Partner of Microsoft, was highlighted in a Microsoft Case study for the success of our Mortgage Business Intelligence (Mortgage BI®) solution for Sierra Pacific using several of ABT products in conjunction with Microsoft Power BI.
Working with one of ABT's powerful cloud-based platforms, MortgageWorkSpace® (MWS), empowers the mortgage industry to streamline their process in a compliant standard. ABT's software is trending as the gold standard of the mortgage technology industry. We solve the unique security, regulatory, and data challenges facing banks, credit unions and financial institutions.
The mortgage industry hopes that all of their partners are the best in class. Jim Connell, CIO of Sierra Pacific Mortgage, highlights how Mortgage BI® has helped with their banking transactions.
We don't have to ask banks or employers for paper validation. Everything can be tracked electronically, according to new investor policies that enforce higher transparency and data quality standards.
These quality standards can only come about with technology assistance from a quality organization. Gary Clark, CEO of Sierra Pacific Mortgage, turned to ABT when he found that there were no current solutions in the market. He soon realized the full potential of the power of ABT's cloud based BI.
Justin Kirsch, CEO of ABT, congratulated his team for their success with Sierra Pacific Mortgage. He announced this as a victory for everyone at ABT and a significant milestone in the adoption of MortgageWorkSpace® as the Mortgage industry's gold standard.
Our customers continually benefit from our updating the best in class Mortgage technology and best in class business practices developed by ABT.
Working hard at finding solutions that are cloud supported, the dedicated ABT team discovers those pivotal answers. They adhere to principles of simplicity, security and accuracy.
Our primary mission at ABT is to empower mortgage teams to run faster and more efficiently by helping them manage and measure what matters most. We provide a secure, compliant, and technically advanced (yet simple to use) cloud work space to run mortgage companies.
This case study from Microsoft was written by Melanie Higgs.
ABOUT ACCESS BUSINESS TECHNOLOGIES:
Access Business Technologies (ABT), headquartered in Northern California, was founded in 1999 as a leading provider of hosted, on-demand software for mortgage loan origination, servicing and pipeline management. We provide access to business technologies that empower mortgage professionals to safely perform at the top of their game. ABT proactively supports, defends, and manages game-changing technologies and processes that help mortgage professionals excel.
We are a certified SSAE 16 Type II cloud solution provider to over 500 mortgage financial institutions. We are partnered with nearly a dozen leading mortgage software vendors. These partnerships enable us to provide your workforce with the tools to safely produce more loans, anywhere and anytime. For more information, contact: info@myabt.com.
View the Case Study here: http://customers.microsoft.com/en-us/story/sierra-pacific-mortgage
ABT 's PrWeb Official Release: http://www.prweb.com/releases/2017/07/prweb14504916.htm
SPM's Official Release: http://www.prweb.com/releases/2017/07/prweb14496799.htm